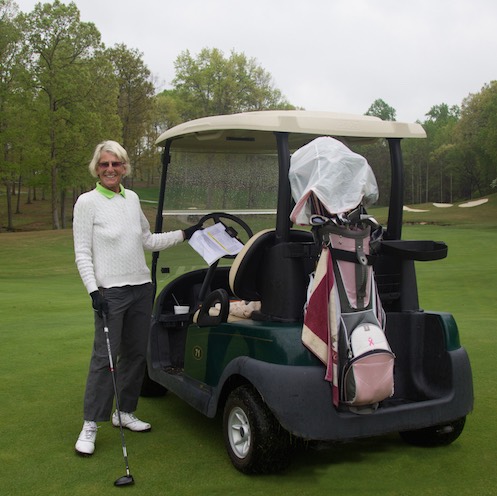 Wilma Lathrup, member of Treyburn Country Club, played 300 round of golf in 2016 (That's 5,400 holes!)
Wilma Lathrup, a retired teacher, moved from New York to Treyburn in 1999. And she hasn't looked back since. "That move was the best thing I ever did," she says. "My big passion in life is to be outside, and I can do that here." Lathrup began golfing when she was nine years old with her parents. "And I hated it!" she recalls. "I couldn't wait till I was old enough to stay home and not golf with them." But she eventually developed a love of the game; in 2016, she averaged more than 300 full rounds played. "It's just what I do," she says. "I get up. I take care of my cats. I get on the treadmill. Then I go play golf."
What part of your game have you been able to improve the most over this past year?
I would like to say my short game, but that's wishful thinking. Probably my ability to drive the ball.
What's the most memorable round you played in 2016?
I scored a hole-in-one on No. 13 at Treyburn.
Are there any heartbreaking near-misses or blooper scenarios you'd like to share?
A few years ago, I flew to Florida to play golf with my mother. I was so excited, as she was quite elderly. I knewI wouldn't have many more times to golf with my mom. I went to put my golf shoes on at the first tee, and I realized I brought two left shoes with me! I gave the cart boy my credit card and gave him instructions: Go into the pro shop, buy a pair of ladies white golf shoes size 6.5, and bring them straight here. He did it, and I was good to go!
You grew up golfing with your parents. Who do you golf with now?
I have six grandchildren and I'm determined that one of them will play with grandma! My youngest grandson, Pablo, is 14 ... at that age, you just give them a ball, any ball, and something to hit it with, and they're happy. They just want to hit it, and hit it far! So right now, Pablo is the one that plays with me. I've played quite a few times with him and his dad. It's so nice. That's three generations of us on the course. What else can three generations do together and enjoy? Pablo was dying to outhit me, so on the 9th hole, I let him outhit me. I wanted him to go home happy! And he went home happy, wanting to do it again. That's what it's all about.
What's your post-golf ritual?
I take my shoes off and forget about it. I just blank it out of my mind. It does me no good to go over the round and have regrets. I don't ever think "Oh, I should have made that putt." It's forgotten. And the next time I play, I have a clean slate to start all over again.