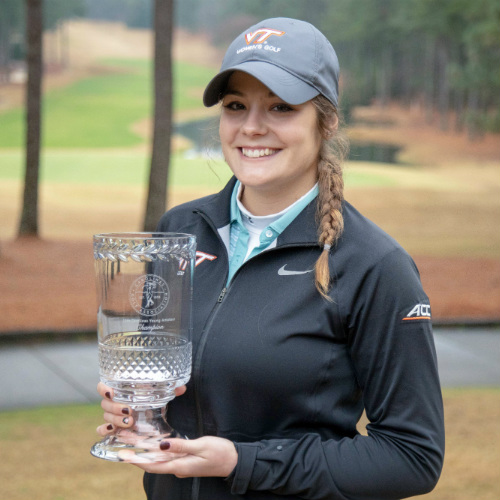 Catching up with collegiate standouts: Jessica and Sarah Spicer at Virginia Tech.
In January, Virginia Tech junior Jessica Spicer fired a 2-under 70 at Pinewild Country Club's Magnolia Course in Pinehurst to win the 10th Carolinas Young Amateur championship. Spicer's identical twin sister and Hokie teammate, Sarah, tied for sixth in the championship with a 75.
As she typically does, Jessica consulted with her sister the previous night.
"I just tried to do what I always do, which is focus on my own game, shoot the best score I could shoot, and see how it ends up," says Jessica, who won the 2017 contest as well. "We're so fortunate to have so many good players from the Carolinas."
The sisters are the daughters of Michael and Maria Spicer, who have been Treyburn Country Club members since 2006. Jessica and Sarah first excelled at synchronized skating, which they started at age five. They took up golf two years later, and by their mid-teens realized that golf was their sport for the future. They played on Durham's Northern High School boys' golf team and earned all-conference honors.
In her sophomore campaign for the Hokies, Jessica finished fifth on the team in scoring average. Her best tournament of the season came in the fall, when she finished 16th at the Lady Paladin Invitational.
Sarah is a redshirt sophomore at Virgina Tech. She did not appear in fall 2017, but competed in two events in the spring, making her collegiate debut at the Hurricane Invitational in March. Sarah finished tied for 36th place with, among others, Jessica.