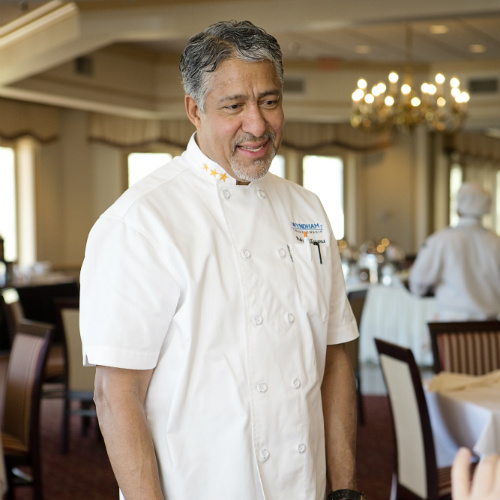 There's never been a better time to have dinner at the club. Executive Chef Pedro Villasana dishes on everything from locally sourced ingredients to the best entrée and wine pairings.
With 20 years at Durham's Treyburn Country Club under his belt, Pedro Villasana has crafted countless dinner menus.
"We change the menu monthly to give priority to local items," he says. "I talk to the purveyors to see what's available in the coming weeks. This allows us to be creative, plus keeps things interesting for regular diners."
Villasana's Mediterranean-inspired menus rely on straight from-the-coast seafood, which he orders from a local company.
"I make the order the night before, and it arrives the next morning," he says. "We do a lot of North Carolina shrimp, plus black bass, grouper, trout … all of our seafood pairs well with Juslyn Vineyards' sauvignon blanc."
Villasana's affinity for the fresh, light flavors of Mediterranean cuisine can be found in dishes like flatbread with pesto, grilled peppers, Kalamata olives, and roasted artichokes, or seared trout with toasted almonds and grilled vegetable couscous.
But ultimately, it's Chef's love of good food that dictates what Treyburn diners can look forward to at their next meal.
"I love food!" he exclaims. "What I like is what I put on the menu. When a member of a country club tells me 'I come here for the food!' … that's the best thing they can tell me."