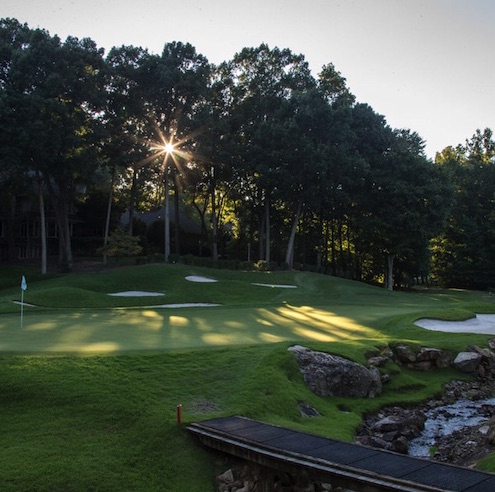 On any beautiful Sunday, I love traveling to Treyburn Country Club From Raleigh, the 45-minute drive takes you through historic Bull City - also known as Durham, N.C. - and into the quiet scenery of Northern Durham. The meandering, bucolic drive is relaxing after you pass the city, and the end destination is one of the most visited McConnell Golf properties. Here are a few high points to hit for a perfect day there.
The Face of the Club
After dropping off your golf bag with the cart attendants, spend time catching up with Director of Golf Tag Wylie. Wylie has been with the club for 16 years and is possibly the most welcoming and accommodating golf pro in McConnell Golf. Besides providing you personalized service, his next goal is to give you a good laugh; so be sure to get as much time with the face of the club as you can.
"Basically, we're the course in the countryside for the members of Wakefield and Raleigh, who have bigger, busier memberships," Wylie will tell you. He notes that Treyburn only logged a modest 14,000 rounds in 2015, which means there is always a tee time waiting for you.
Wylie can't wait to meet any visiting member, but especially appeals to outgoing on-the-go golfers. "The most positive thing is that we try to bring the fun every day for all McConnell Golf members. We have that 'rustic, I'm out in the country' feeling, and we're away from the busy, jamming places and all the construction. If you are regularly entertain clients, McConnell Golf has golf courses in every major city in North Carolina. Everyone feels comfortable and welcomed, always, because they are. The McConnell Golf experience for corporate people is a layup if you ask me."
"A Jewel of a Golf Course"
I will never forget the late Tom Butters once declaring, "Treyburn is a jewel of a golf course." Considering that this man was an avid golfer who played some of the best courses in the world, that's quite the statement. Truly, there's no better way to describe this Tom Fazio golf tract.
Every hole is unique, flanked by wilderness and wildlife. One of my favorite holes - one I consider a bit of an unsung hero at Treyburn - is No. 3. Every time I am there, I stand in the fairway (if my drive makes it there) to just enjoy the moment, realizing, "This is it, I've made it to my sanctuary." But tranquil moments like this continue as you have 15 more golf holes to go.
The No. 8 tee box is possibly the best tee box to hit off of in North Carolina. Elevated way above the fairway, you are as close to heaven as you are going to get for miles. Not only that, you typically hit your golf ball 20 yards farther.
If you wind up at Treyburn on a hot day, I'll let you in on a secret: The coolest area to stop your golf cart is between the No. 14 tee box and your next shot. The cart path wraps around to the right at probably the lowest elevation on the course and lies under the shade of a thick wooded area. Not only is it a great spot to cool down, but most of the time you will find deer wandering right by you. Amazingly, the deer are so used to the golfers, they don't even flinch.
You'll finish, of course, at No. 18, which is an incredible but intimidating par-four. Depending on your drive, you likely need to lay up short of the green. Surrounded by a creek and some bunkers, 18 is known as one of North Carolina's best finishing holes. Getting on that green in two strokes is definitely considered a successful day, regardless of your overall score.
A Locker Room of Legends
Following play, walking through the 19th hole to the men's locker room is a must - sorry, ladies. As you clean up before dinner, check out the lockers of legends such as Grammy Award-winning saxophonist Branford Marsalis and basketball hero and five-time MVP of the NBA Michael Jordan. If you don't have the time to get a guest locker next to these guys, then you at least need to stop by just to lay eyes on these legendary lockers.
Foodie Finish
Assuming you've worked up an appetite, trust Treyburn's executive chef Pedro Villasana to finish the day with an exquisite meal. His culinary work is raved about throughout McConnell Golf, not to mention the welcoming dining room atmosphere. During the cooler winter months, enjoy a cozy, private fireside dinner in the Sanford Library. Any season is a good time for a casual bite to eat in the Fazio Grille. And warm summer evenings call for a meal al fresco on the spacious veranda overlooking the signature 18th hole.
No matter how busy your schedule, find time for a daytrip to Treyburn. No need to wait for a Sunday like me - a visit on any day of the week is sure to be personalized, pastoral, and memorable.