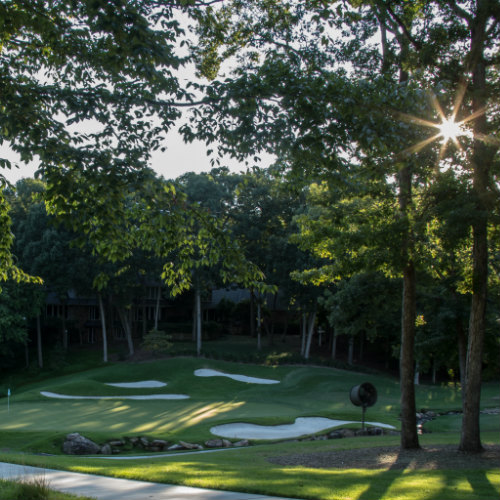 Rick Fisher's personal journey has taken him from corporate executive to a photographer extraordinaire who is giving back
In reality, Rick Fisher has been a photographer all his life.
Working as a corporate executive in the biotech and chemical industries, Fisher constantly found himself with camera in hand. In fact, during his decade in the biotech industry, most employees viewed Fisher as the company's photographer.
So it probably came as no surprise when Fisher decided to retire from the rat race in early 2006 and began ardently pursuing his interest in photography.
Yet, even Fisher couldn't have predicted the road he would take.
Since retiring, Rick immersed himself in honing his photographic skills through formal courses offered from sources throughout the country. In January 2011 he formed his own business, Rick Fisher's Photography, LLC, and in 2012 photographed the PGA Tour's Wyndham Championship at Sedgefield Country Club, the McConnell Golf Cookbook, as well as a number of member events for McConnell Golf clubs. He also joined the Professional Photographers of America and North Carolina. And, somewhere along the line, Fisher determined that the mission of his business would be to donate 100 percent of his profits to charity. "I lost interest in golf and decided to learn everything I could about all aspects of photography," said Fisher, a McConnell Golf member at Treyburn Country Club.
"Building a small business, practicing the art of photography and giving the profits to charity are such fun. There are few things better than having someone give me a hug and tearing up because they love the image I have taken. It's hard to put a price tag on that."
Fortunately, Fisher's operation has grown from Day One. His first month in business, January 2011, his total revenue was about $250. For the same period this year, it approached $6,000.
"I try to focus on providing quality photography, pleasing my customers and charging a reasonable fee for the work," he said. "That simple formula seems to be working and the word is getting out. I've started to hear from people through referrals of others."
Fisher said by the end of the year he is on track to exceed $100,000 in contributions to charity since starting his business. Not to mention, "I also provide work without charge to help various nonprofits," he said. "I work as many or more hours today as I did at any time during my career," Fisher said, "but most of time it doesn't feel like work."
And he spends a significant amount of time educating himself as to the latest software and photographic techniques. "In 2013, I'll spend about six weeks in some kind of formal training," said Fisher, who also teaches a number of photography classes at the Sarah P. Duke Gardens and the Museum of Life of Science in Durham.
People constantly ask Fisher what his specialty is - Weddings? Events? Portraits? His answer is always the same. "I do everything - weddings, family portraits, pets, events, sports, nature, you name it," he said. "I'm getting a growing interest in my nature photography for home decorating."
"I think I would get bored being too narrowly focused," he said. "I'm doing this because I love the art of photography. I balance making money for charity with my interest in the subject.
Photo credit: Rick Fisher